The second week begun quite early in the Monday morning – altough we did not have any lectures today we had a meeting with Jussi Harvela. We talked about market entry and research and other useful stuff.
After the meeting we drew some conclusions from it and upgraded our strategy, that of course, is awesome. The rest of the day we spent developing, so it was the usual stuff once more, Guntis restructurized and organanized the code we already had, and we also ran into some interesting problems with iPad compatibility, otherwise everything else is running smooth. Oh and we missed "Digital Trends and Entrepreneurship in Google" lecture, becouse we failed to check that it was happening in Helsinki.
The Tuesday was whole another story – the second week of the #StrautpSauna program begun!
Everything kicked off with a discussion about "The Essence of Entrepreneurship", it was a really nice informal discussion about the life as an entrepreneuer. We discussed the risks, the benefits, the interesting things and so on.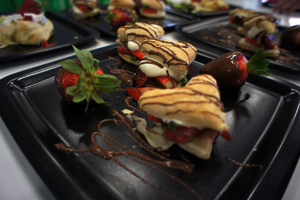 Then came the "Team Building Exercise" by Natalie. We were split up in four teams and as it turned out we had to cook! Two foods and each of them had to be different (one had to be so called main dish, the second had to be the dessert dish, like not so sweet+sweet). But there was a catch – both foods had to have the secret in it. And the secret ingredient was strawberries – yey.
The results were quite awesome and everything was quite tasty and even looked good (looks like ramen is not the only thing a startup entrepreneuers know how to make).
Just an awesome day, after that we went to check out the surroundings, this time a little bit further. After that we continued coding and marketing research. In the late midnight internet revealed us some competition, soo looks like we will tighten up our dev-process.