Ok, so, Saturday we woke up after some extensive networking, ate something for breakfast and made our day plan.
Actually these were the first two "free days" (as in there were no lectures or events happening during saturday and sunday). But we decided – whatever, lets do some coding. Yey! It was quite fun, after a few hours of coding and drawing we decided to take a break from developing and check out the surroundings of the Garage.
We walked around for a while and where surprised how "spacey"/free everything was on weekdays, there were very few cars and lots of spacey parking places(at least compared to Latvia). We checked out the parks, tried some sprinting on the grounds of local stadium, hanged around in some place that resembled Amphitheatre. Basically – had some air.
Afterwards we went back to do some more coding, and some more, and some more, and some more and so on until somewhere around 6AM, then we decided – enough, it is time to go to sleep.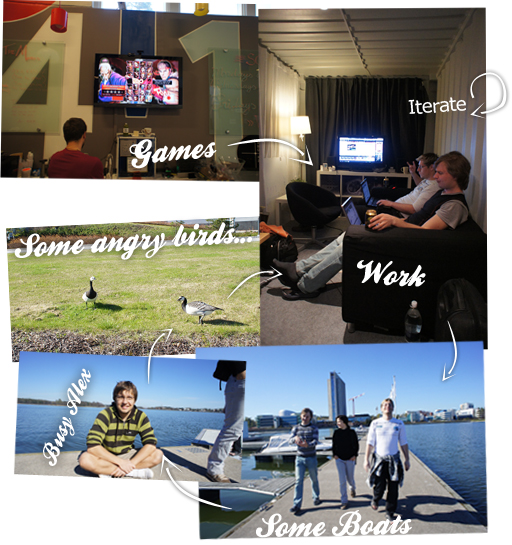 So this is basically is the scheme of what we did these 2 days.
Sunday we basically did the same thing (bored? heck no.) but today we finally got our hands on the latest "South Park" episode, watched that, chilled a little bit and started working…
So yeah – Sunday was a workday too. Actually we are thinking about publishing some demos/code snippets/sneak previews soon, so it will get more interesting to hang around in our blog.
Oh, and sorry for the bad English .