After the journey to Palo Alto and a nice welcome dinner in the Fish Market an epic week in the Silicon valley begun.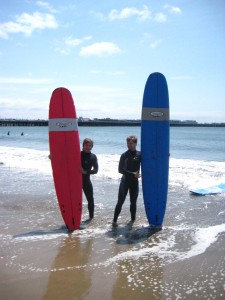 This was the first time we were in the Silicon valley and everything seemed so cool, and to make it even cooler – it turned out that the first activity that was planned in the valley was Surfing lessons in the sunny beaches of Santa Cruz. Trying to catch the waves and stand up on the surfboard was a fun and new experience. And it involved a lot of falling off the board until we succeeded and got to stand up for a second.
Overall this week was great and it would take too much space to describe all of the cool people we met and all the things we did, so i will just put here some of the highlights from this week (31.05.11 – 05.06.11)
I'll start with the Monday. The highlight of the day was meeting with Sami Inkinen – President and Co-Founder of Trulia. Their office building was quite amazing(we'll take one of those). Shortly after gathering the group we introduced ourselves and our projects and got some feedback, after that we got to hear Sami's story about Trulia and how he started it and what it took to go from nothing to something. And that was quite awesome, and even more so becouse this was our first big story from the Valley. During the meeting we found out that Sami was going to participate in Iron Man qualification event that was supposed to happen in the next day after our meeting.
Tuesday we had very packed day – we checked out some Co-Working spaces(Founders den, Rocket Space etc) and after that we went to meet Steve Blank. He was one inspirational meeting. Steve is a guy who has worked his way with amazing dedication and he is realy passionate about the thing he does. He told us his story and gave some great insights of what is what. He realy has inspirational personality(and also an awesome view from his ranch.)
After meeting with Steve we went off to our next meeting. And here starts the fun part – roads in California mountains are soo damn curvy, and the planned easy ride turned into something very weird. Yeah.
Ok, after we finally arrived at our next meeting that was scheduled to happen at "Bella Vita's" in Los Altos. This meeting was with Mårten Mickos, the former CEO of MySQL. That was a meeting we were looking forward to scince we heard about it. When we met him turned out that he was realy fun and open person and he gave us a lot of insight in working with team that is scattered all across the globe. Also we had a few more discussions about MySQL(after all this is what allmost every single web geek uses) and some opinions on one of our potential business models. The meal went on and we made an awesome picture for startup sauna sticker contest. Nice.
Then came Wednesday – this was interesting one. We finally got to see some real lawyers from the silicon valley, first impressions were great and now i can see where all of those startups can easily spend all of their money.
The Next highlight was meeting Robert Scobble, the meeting lasted for around 3/4 hours and the meeting place was Ritz hotel (quite the high end hotel). We talked about a lot of general stuff, mostly topics somehow involved a little bit of Nokia talk. And then came the camera. Teams got to pitch their idea on Scobbl-cam and some of the lucky teams even got to see Roberts house. The filming was fun and a lot of interesting stuff happened while the filming was going on. Another place and another topic for that stuff tho.
Thursday – the day of VC's. This was the day we got to meet some of the top tier VC's from the Valley. We met with DFJ and Sequoia those were some interesting meetings and we finally saw that the guys so high up are not scary at all, they were really cool. We pitched and pitched our ideas and got some interesting feedback from those meetings. After that the group split up a little and went to different meetings – MF also split up to see one of our potential Clients and to go and speak with Jussi from Applifier – he was one awesomely stright forward guy and the feedback he gave was amazing. No BS just everything how it is.
Friday – the final official day of Startup Sauna week in USA. This day was also quite tight but with something special in the evening. After meeting and checking out Venture beat offices we went off to see RocketSpace, I/O Ventures (Fave of the Mightyfingers), met up with Jyri Engeström. And then came the big event of the day – BBQ at the BlackBox Mansion.
The BBQ was fun, but also serious, we got to network with quite a lot of SiliconValley Startups (and not only startups) got to see how guys live and work here and of course – there was meat grilling and beer drinking. It was awesome.
Then came Saturday, the teams went off to see 500Startups co-working space and talked about hardships involved in moving to silicon valley from europe, about how to get in these spaces and a lot of other usefull stuff.
After that some teams started preparing for their Flights back to Alto Venture Garage in Finland, some prepared for a little celebration in the evening some others just enjoyed themselves.
Cheers to everybody already back to Finland, MightyFingers are flying back on Wednesday!