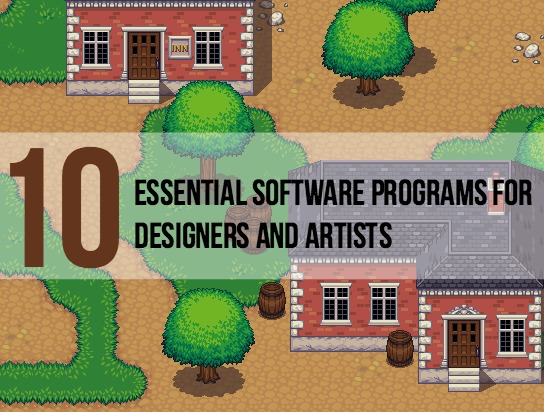 If you are a video game designer then there is a pretty good chance that you have an artistic side. There is a piece of you that loves designing and creating new things from scratch. Luckily, in the 21st Century, there are plenty of tools and resources to help you fine tune this craft and design amazing pieces of art.
Everything from 3D graphics to animation, these 10 pieces of software are must haves for any designers toolbox.
1. Flipbook 6.86
Let's start with the 2D animators out there. If you haven't tried Flipbook yet, then you are missing out on an incredibly useful tool to help develop your skills. Sure, their website is terrible and incredibly their software hasn't been updated in years, however, it has stood the test of time.
Flipbook was developed from the ground up for professional 2D animators. It isn't just an add-on feature as you will find in other software packages. While Flipbook also offers 3D animation and stop motion animation features, its bread and butter is definitely the 2D world.
Visit their website by clicking here.
2. Flash Professional CC
Say what you will about Flash, especially if you have an iPhone, but there are still far reaches of the Internet world that use Flash for pop-up ads, short videos, etc.. Creating 3D animation with Flash is still a useful skill to add to your resume. Many companies are out there looking for Flash designers.
Of course, Flash Professional CC is the ideal tool to teach you the basics and help you become an expert in this field. It is an Adobe product, so you know it will come with everything you need to sharpen your skill. Unfortunately, this also comes with a price tag but if you are serious about learning Flash then this is your best option.
Learn more about Flash Professional CC here.
3. ZBrush 4R6
While most of the other programs have updated their software to include every possible feature that designers and artists could possibly want, ZBrush has stuck to just providing the very best in creating high quality 3D objects. You won't find any tools for animation or anything like that but you will find the very best for developing your 3D design skills.
Designs from this program have been used in big budget movies such as Lord of the Rings, so you know it has the capability to handle any 3D project.
Learn more about ZBrush here.
4. Maya
If your goal is to be the world's greatest 3D animator then there is only one tool out there that you need to use. Of course that is Autodesk Maya. Over the years, they have pushed the limits of 3D animation, so if you want to learn all there is about this art then this is the program for you.
Learn more about this 3D animator giant here.
5. Toon Boom Studio 8
Let's get back into our own wheelhouse, which is of course 2D graphics and animation. If you want to perfect your 2D animation skills then you need to check out Toon Boom Studio 8. Incredibly, hundreds of top shows and movies have used Toon Boom Studio 8 to create their 2D animations.
If you want to learn on the best 2D animation software for movies and shows, which can also be transferred to games, then this is the best option for you.
Learn more about Toon Boom Studio 8 here.
6. Illustrator CC
Of course, we couldn't create a list about the best design programs without including Adobe Illustrator. Let's face it, if you are a graphic designer then you have most likely tried out Illustrator. It let's designers create anything they can think of with vector based graphics.
Definitely a useful piece of software for aspiring graphic designers or anyone with a true love for designing.
Find out more about Illustrator CC here.
7. Draw Plus X6
This drawing, illustrating and 2D animation software is excellent for aspiring artists that want one program to all of your backgrounds, scenery, characters and bring them alive with awesome animation. This piece of software will let you turn your paper drawings into vector graphics and help you make them come to life.
It is the perfect program from creating your ideal 2D world and is fairly easy to use so if you are just getting into this game then you will appreciate Draw Plus X6.
Learn more about this program here.
8. Adobe Photoshop
This is another program that has to be on a list of top designing software. Much like its cousin, Illustrator CC, it has dominated the graphic design industry for years. Photoshop has pushed the boundaries of graphic design of years and it has pretty much perfected its interface.
If you have any type of passion or love for graphic design then you likely already have a copy of Photoshop sitting on your computer. If not, you may want to pick up a copy.
Learn more here.
9. The TAB Pro
TAB Pro is another great 2D animation software that reduces the time it takes to bring your characters to life. This software is known for streamlining your workflow and is jam packed with user friendly tools to make the process quick and painless.
Ideal for beginners or professionals alike. If you are looking for a good 2D animation tool then the TAB Pro might be a good fit for you.
Learn more about it here.
10. SketchBook Pro
This is another Autodesk product and it is amazing for the true artist who doesn't need 50 different brushes and just wants a program that works quickly and creates high quality graphics. SketchBook Pro offers the 2D artist a reliable stable brush tool so you will be able to create a masterpiece.
Perfect for any artist looking to quickly create 2D images or landscapes. Definitely a great tool to have in your toolbox.
Learn more bout SketchBook Pro here.
Naturally, these software programs are more then just for designing amazing HTML5 video games but if you are an artist who like to practice their skill then these programs will definitely interest you. There is a lot of new skills to learn for a digital artist and each of these programs will help you do just that.